Written by DML
Below is a very important report which I ask you to please share on your social media accounts.
According to a new Pew Research Study there are 4 types of Trump voters.
Four types of Trump voters, based on their views in 2016 and 2018
Comparing Trump voters' feelings about him in April 2016 with their views in March 2018 divides them into four groups: Enthusiasts, who had warm feelings for Trump at both points; Converts, who were initially cold or neutral but warmed over time; Skeptics, who were cold toward Trump in April 2016 and cold again in March 2018; and Disillusioned Trump voters, who were initially warm toward him but were cold or neutral in March 2018.
Enthusiasts make up the largest share of Trump voters (59% of verified voters who reported voting for Trump); they gave Trump warm ratings on the feeling thermometer in both April 2016 and March 2018. Their loyalty to Trump was evident in the primary campaign: In April 2016, six-in-ten Enthusiasts (60%) said they wanted to see Trump receive the nomination compared with just 14% of the other groups of Trump general election voters.
Converts make up the next largest share of Trump voters (23%). These voters were cold or neutral toward Trump prior to his receiving the Republican nomination. In April 2016, nearly half of Converts (44%) favored Ted Cruz for the GOP presidential nomination. But in September 2016, during the general election campaign, 73% of this group had warm feelings for Trump, including 31% who gave Trump a very warm rating. By March 2018, 71% gave him a very warm rating.
Skeptics, like Converts, had cold or neutral feelings for Trump in April 2016. Unlike Converts, however, Skeptics did not have warm feelings toward Trump nearly two years later, after he became president. Skeptics, who constitute 12% of Trump voters, reported voting for him, and their feelings for the president became somewhat warmer in the wake of the election. But their views of him grew more negative after he became president.
A very small segment of Trump voters, the Disillusioned, had warm feelings for him in April 2016 – and reported voting for him that November – but had cold or neutral feelings for him in March 2018. The Disillusioned make up just 6% of Trump voters.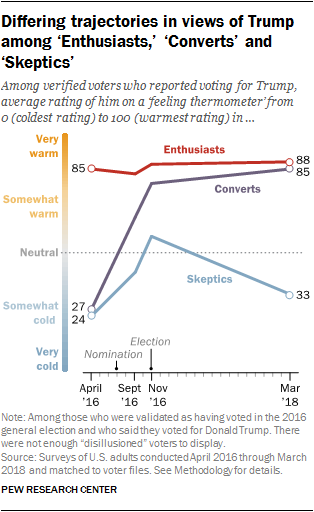 Looking at the average thermometer ratings for Trump from 2016 to 2018 among three groups of Trump voters (there are too few of the Disillusioned for this analysis) underscores the different trajectories in feelings toward Trump among the Converts, Skeptics and Enthusiasts.
In April 2016, the average thermometer ratings from Trump among both Convertsand Skeptics were very low (27 among Converts, 24 among Skeptics). By contrast, the average rating among Enthusiasts was 85.
Shortly after the election, both Converts and Skeptics warmed considerably toward Trump, but there were sizable differences in views of the president-elect among the two groups: In November 2016, the average rating for Trump among Converts was 22 points higher than among Skeptics (79 vs. 57).
By March 2018, the average thermometer rating among Converts was 85, slightly higher than it had been shortly after the election. The average rating among Skeptics plummeted more than 20 points (from 57 to 33). The average thermometer rating for Trump among Enthusiasts remained very high over the course of the 2016 campaign and into the second year of Trump's presidency (88 in March 2018).
—
There is much more to this report, and if you are a Trump supporter, I suggest you give it a review.