By DML
According to Pew Research, the United States has more immigrants than any other country in the world. Today, more than 40 million people living in the U.S. were born in another country, accounting for about one-fifth of the world's migrants in 2017. The population of immigrants is also very diverse, with just about every country in the world represented among U.S. immigrants.
These are the numbers you never read in the mainstream media:
The U.S. foreign-born population reached a record 44.4 million in 2017. Since 1965, when U.S. immigration laws replaced a national quota system, the number of immigrants living in the U.S. has more than quadrupled. Immigrants today account for 13.6% of the U.S. population, nearly triple the share (4.7%) in 1970.
Remember, this is just LEGAL immigration…
Mexico is the top origin country of the U.S. immigrant population. In 2017, 11.2 million immigrants living in the U.S. were from there, accounting for 25% of all U.S. immigrants. The next largest origin groups were those from China (6%), India (6%), the Philippines (5%) and El Salvador (3%).
By region of birth, immigrants from South and East Asia combined accounted for 27% of all immigrants, close to the share of immigrants from Mexico (25%). Other regions make up smaller shares: Europe/Canada (13%), the Caribbean (10%), Central America (8%), South America (7%), the Middle East (4%) and sub-Saharan Africa (4%).
Who is arriving today?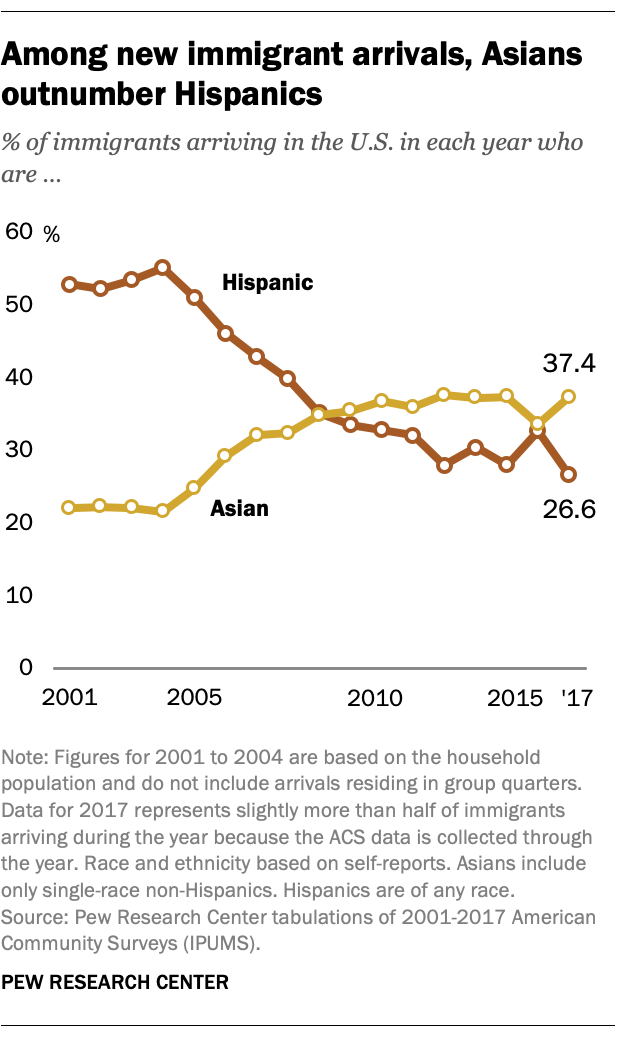 More than 1 million immigrants arrive in the U.S. each year. In 2017, the top country of origin for new immigrants coming into the U.S. was India, with 126,000 people, followed by Mexico (124,000), China (121,000) and Cuba (41,000).
If you are asking why the US continues to take in so many people it's because of the demand for cheap labor.  In my opinion, we as a nation do not need this many immigrants coming into the US.